The Moontime Harmony Workbook





Barnes and Nobles
Buy direct onPaypal  
Shipping may take 1-3 weeks depending on inventory. 
---
Now available:The Moontime Harmony Journal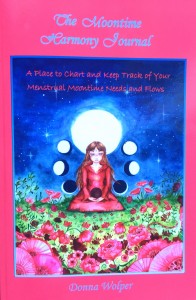 Reviews
"The Moontime Harmony Workbook engages us, month by month, in connecting with our menses through wisdom, worksheets, and thirteen beautiful, usable calendars.We are encouraged to remember our first blood, to trust our bodies intuition, and to release the story that our periods must walk hand-in-hand with physical or emotional pain.The book addresses sexuality, the shame we carry about our bodies and our cycle, and our struggle alongside all other beings throughout history. It stirs memories of the red tent or moonlodge – a sacred place for ease, healing, and reflection.We are urged to connect to our bodies rhythm and the attune oneself to the ebb and flow of the feminine. Many of us may not have had the push to do so, but once a month our bodies remind us to reawaken ourselves and step into whatever incarnation of the red tent we are called to – and this workbook is a beautiful guide. "Lillian Krueger ~ Journey of Young Women
So I gifted your book to my client today and she was over the top excited!!!  She thought it was so incredibly beautiful and has been having really bad cramps, and got a bit emotional at the opportunity to have a space to visit about that!
* Thank you so much for being you and doing your important work in the world.  You are making such a difference!!

❤❤❤❤❤


Lynn Ruoff- Integrative Nutrition Health Coach
* I loved the book you sent originally which was The Moontime Harmony Workbook. I am on my moon cycle again and just read thru it, really kool information and beautifully written! Thank you for writing such a great book, I will share your info. with many women for sure and recommend your books!!–Shannondoah Buckley daughter of Brooke Medicine Eagle
* This is a wonderful addition to helping girls understand the mystery of menstruation. It is a thoughtful, easy to understand manual that both mothers and daughters will find interesting.–Mae Zimmer
* This beautifully written book is filled with questions, the author's wisdom, and lots of information guiding women through their menstrual cycles month by month, encouraging us to look at the cycle in more depth and understand better the monthly changes in energy, emotion and physicality. It also encourages the reader to think about their menarche, and growing up which I found extremely valuable. I am looking forward to working through the book from start to finish now I have read it cover to cover and engaging more with the exercises. I truly recommend this book to anyone wanting to undertstand their cycle and work with it rather than against the flow. Thank you very much Donna for a wonderful inspired book.–Jade Alexander on Amazon
* YES!!! It's so beautiful… I love it ♥️ Warm Regards,–Jennifer Jarjourahill
'Look Inside' the Workbook'
pages v to vii
pages xi to xiii
pages 5 to 7
pages 9 to 11
pages 23 to 25